DURANOL™
Polycarbonatediol(PCD)
Our Copolymer PCD(Poly carbonate diol) is liquid at room temperature, and offers heat/hydrolysis/chemical/abrasion resistance, good softness and lower crystallinity.  The solubility and elasticity are also excellent comparing to standard solid homopolymer PUD.
T5652, G4672 and G3452 have 400-900% solubility for measure solvents(Toluene, DMF, Ethyl acetate MEK etc.)
This product is recommended for polyurethane dispersions, polyurethane elastomers, and for plastic coatings.
Features & Benefits
●DURANOLTM has a high hydroxyl purity. It can provide high Mw-Polyurethanes.
●Good physical properties in terms of heat, hydrolysis, chemical, abrasion resistance.
●Copolymer PCD has better elasticity than Homopolymer PCD
Chemical Structure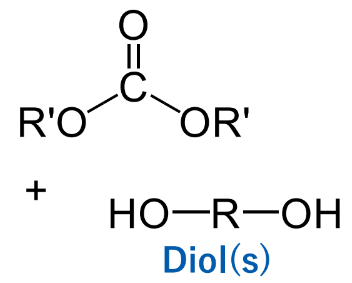 Function
Biobased Material
Heat Resistance
Hydrolysis Resistance
Abrasion Resistance
Chemical Resistance
Soft Feel
Application
Adhesive
Adhesive for Solar Cell
Elastomers
Synthetic Leather
Automotive coatings